Community Bulletins
Check back here regularly for entertainment industry related community updates, special events, casting calls, etc.
---

Disney/ABC Studios at the Ranch, the L.A. County based studio project that will bring a dozen sound stages and new production facilities to Disney's Golden Oak Ranch in Santa Clarita.
---
New Heights Artist Development Series
The Santa Clarita City Council and Arts Commission is proud to present New Heights, a series of FREE workshops, panel discussions, and lectures designed specifically to engage creative individuals, no matter what level of experience. The sessions will help artists, performers, and arts organizations expand their knowledge while learning valuable tools to increase success.  Multiple sessions will take place each session and will cover music, filmmaking, the visual arts, and general education for art groups.
---
Come out to Old Town Newhall for the City of Santa Clarita's Thursdays@Newhall series on the 1st Thursday of the month for a FREE evening of entertainment!  10 by 10 is a variety night giving ten selected entertainers the chance to take the stage and perform a 10-minute piece of their choosing for a live audience.  Each month, audience members will enjoy storytelling, music, magic, comedy, dance, live theater, short films and other forms of entertainment at this ever changing event.  10 by 10 Variety Night is held on the 1st Thursday of the month at The Main, 24266 Main Street, Newhall, 91321
---

Galleries and Exhibitions in Santa Clarita
There are a variety of art galleries and exhibits throughout Santa Clarita that showcase the many talents of all types of artists from painters to photographers to sculptors and more.  For more information on past, present and future exhibitions click here or visit SantaClaritaArts.com for up to date news on the arts in SCV.
---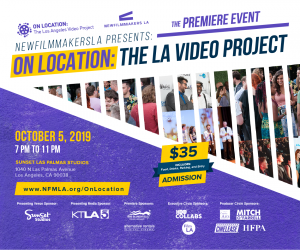 On Location: The LA Video Project Premiere Event
Join New Filmmaker LA for the premiere event of 26 short films that highlight the very best of Los Angeles on Saturday, October 5th, 2019 at the historic Sunset Las Palmas Studios movie studio lot!  The evening features screenings of all 26 short films, food by LA's legendary Pink's Hot Dogs, drinks by Tito's and Karl Strauss, live performances, an awards ceremony and more.  Admission is $35 and includes food, drinks and parking.
The Los Angeles Video Project is a community outreach multimedia program that celebrates and enlists LA's remarkable pool of filmmakers. By engaging these creative members of the Los Angeles community to act and serve as Ambassadors of LA, NewFilmmakers Los Angeles (NFMLA), along with the support of HBO, LA City Councilmember Bob Blumenfield, FilmLA, Sony Pictures Entertainment, HFPA, Alternative Camera Rentals, LA City Councilmember Mitch O'Farrell, Central Hollywood Neighborhood Council, Cinelease, LA County Supervisor Sheila Kuehl and the Santa Clarita Film Office are able to share what these artists call their LA; an insider perspective into this diverse, cosmopolitan county and its neighborhoods.
For more information, visit NewFilmmakersLA.com.
---