FILM OFFICE NOTICES – CLOSURES AND IMPACTS
The Film Office will be closed for the following in observance of the holidays: Open till noon on 12/24. Closed on 12/25. Open till noon on 12/31. Closed on 1/1.
Until further notice there will be construction-related activity in the 9th St/Main St/Lyons Ave/Railroad Ave area of Old Town Newhall.
Please allow additional time for processing and requests.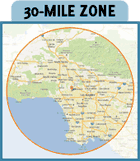 WE'RE IN THE ZONE!
Just north of Los Angeles and located
within the 30-mile zone, Santa Clarita
offers everything you need to make
your next project a success!