PLEASE NOTE UPCOMING EVENTS IN SANTA CLARITA - DUE TO INCREASED TRAFFIC AND EVENT-RELATED CLOSURES FILMING REQUESTS FOR 5/8, 5/15 & 5/16 WILL BE APPROVED ON A CASE BY CASE BASIS. YOU MAY CALL THE FILM OFFICE FOR ADDITIONAL DETAILS.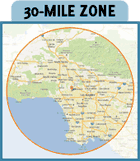 WE'RE IN THE ZONE!
Just north of Los Angeles and located
within the 30-mile zone, Santa Clarita
offers everything you need to make
your next project a success!