Film Office Closed
We will also be closed on the following dates for the holidays: Friday, 12/23 (at noon), Monday, 12/26 (all day), Friday, 12/30 (at noon), & Monday, 1/5 (all day) Please allow additional time for processing and requests.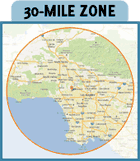 WE'RE IN THE ZONE!
Just north of Los Angeles and located
within the 30-mile zone, Santa Clarita
offers everything you need to make
your next project a success!