NOTE: STARTING 3/6/17 CONSTRUCTION ACTIVITY IN OLD TOWN NEWHALL AREA
Until further notice there will be construction-related activity in the 9th St/Main St/Lyons Ave/Railroad Ave area of Old Town Newhall. The City owned lot at 9th St/Main St will be unavailable for production company rental. Expect additional noise and parking impacts. Please allow additional time for all filming requests in that area.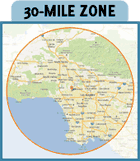 WE'RE IN THE ZONE!
Just north of Los Angeles and located
within the 30-mile zone, Santa Clarita
offers everything you need to make
your next project a success!