FILM OFFICE NOTICES – CLOSURES AND IMPACTS
FILM OFFICE NOTICES – SANTA CLARITA OPEN AND ISSUING PERMITS
The City of Santa Clarita is currently taking applications and issuing permits in compliance with the Los Angeles County Department of Public Health Protocols.
This message will be updated with links to the guidelines set forth by LA County when available.
NOTE: The Santa Clarita Film Office will be closed, Thursday 11/11/21 in observance of the holiday.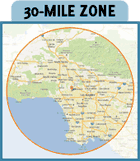 WE'RE IN THE ZONE!
Just north of Los Angeles and located
within the 30-mile zone, Santa Clarita
offers everything you need to make
your next project a success!